https://www.cistudentresearch.com/uncategorized/ci-students-earn-eight-design-awards/
CSU Channel Islands (CI) senior Annie De Bruyn had all but forgotten she had entered the Association of College Unions International (ACUI) "Steal This Idea" design contest.
"Then my supervisor said 'Have you checked your email? Because you won an award!'" De Bruyn said.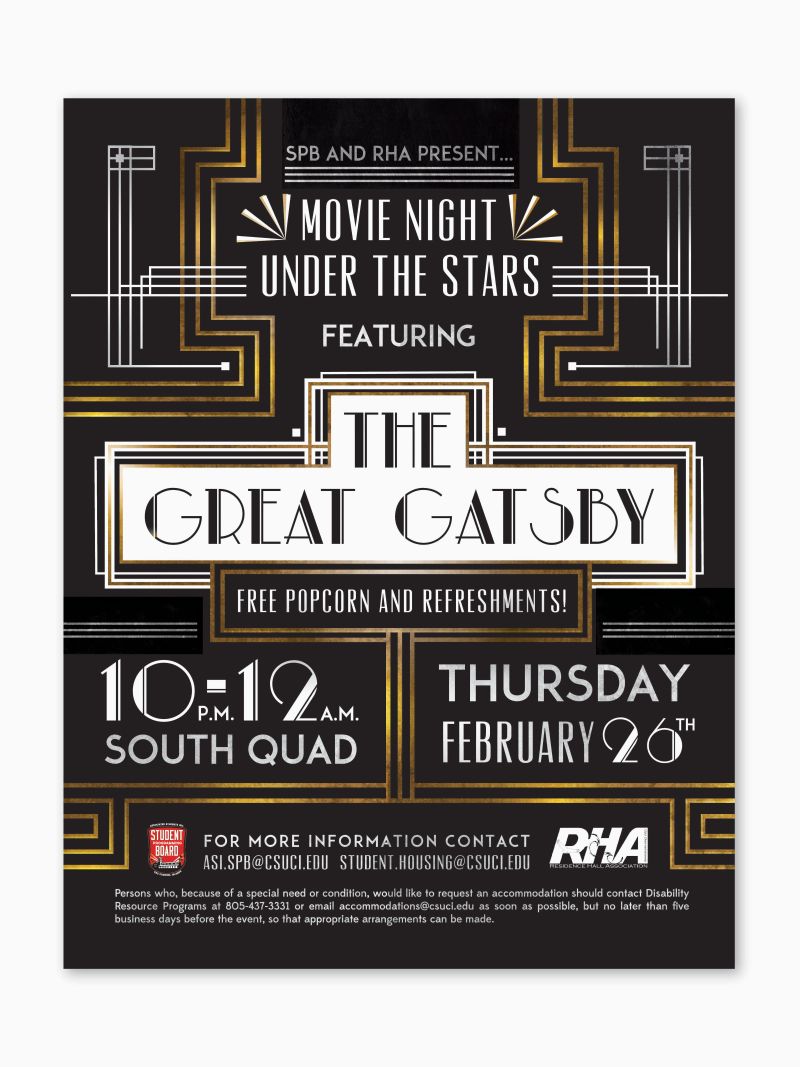 The Studio Art major was overjoyed to learn she had won a first place regional award in the four color poster category for a piece she created to publicize "The Great Gatsby" being shown on campus one night.
The news was even better. Ben Blanchard, De Bruyn's supervisor for Associated Students Inc. (ASI) where she works as a student assistant, had won seven awards for his designs, too, for a total of eight awards, plus one honorable mention.
"Last year we won two, this year we won eight," Blanchard said. "Nine if you count the honorable mention."
The awards were for Region One, which includes California, Nevada, Arizona, Hawaii, New Mexico Australia and the territory of Guam.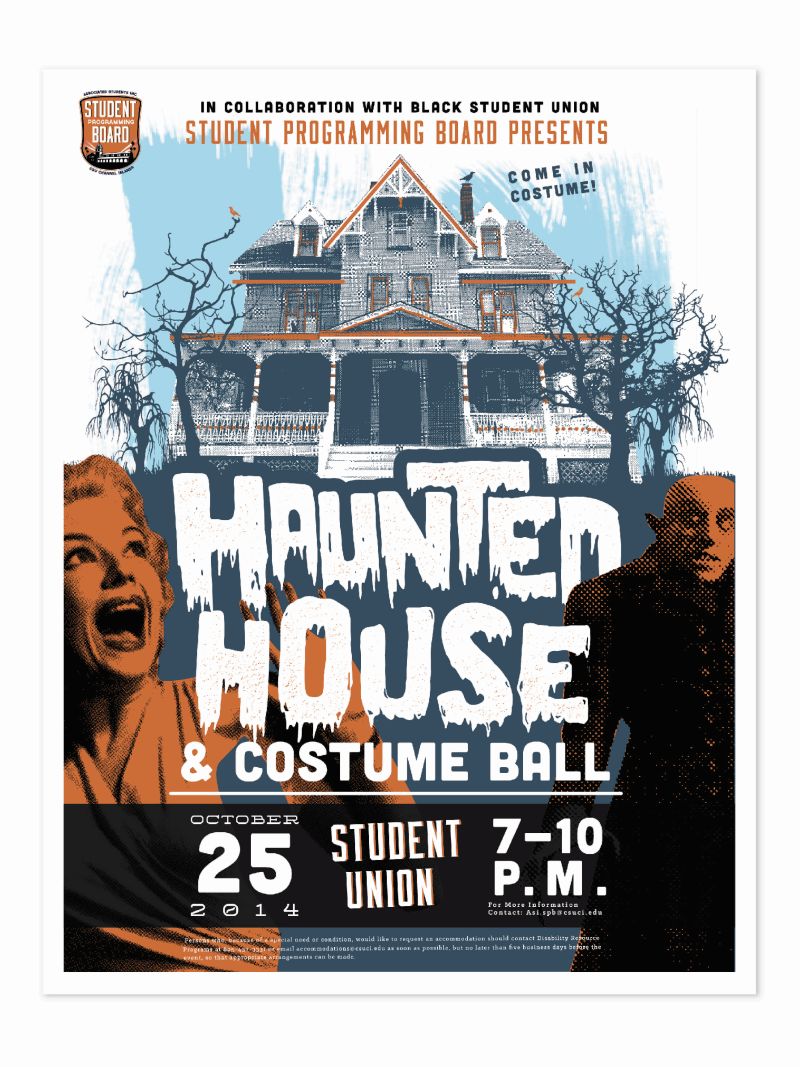 Blanchard was happy for De Bruyn, and for the opportunity to celebrate this accomplishment with the ASI team.
"Awards are awards," Blanchard said. "They're by-products of working hard. And an acknowledgment that we're going in the right direction and that we're competitive with our marketing and design effort beyond our own university."
"Steal This Idea" is a design contest hosted each year by Association of College Unions International (ACUI) that serves a variety of purposes.
"Steal This Idea" is a chance to show off what design departments in each university are doing, while providing inspiration for Student Union design teams looking for new styles of marketing and design.
"The contest is an opportunity to display the most innovative moments from your year and receive feedback for the work you've been doing," Blanchard said.
"Steal This Idea" is split into two divisions: professional staff and student staff. Blanchard won in the professional staff division and De Bruyn in the student division.
Creating the "Gatsby" poster was a labor of love, De Bruyn said, as she loves the Roaring '20s era associated with "The Great Gatsby."
"I love anything having to do with Art Deco," she said. "I'm obsessed with that era. I love the lines, the metal, the fashion and I love the book."
Blanchard said these awards give the student staff members like De Bruyn well-deserved recognition as well as encouragement to continue to pursue their craft.
"In addition, a 'Steal This Idea' award looks fantastic in resumes and portfolios, giving students an advantage as they head into the work force," Blanchard said.
The rest of the award-winning work included the CI Associated Students Inc. (ASI) Annual Report Website; a series of posters on hiring at ASI; a sports-themed block party poster; the 2014/2015 TheNautical yearbook; a poster for a haunted house event; and two annual reports.
The ACUI is a nonprofit educational organization that brings together college union and student activities professionals from hundreds of schools in seven countries. Its members work on urban and rural campuses, in two-year and four-year institutions, and at institutions both large and small.
by