Rosalba Rocha participated in the 2015 Interdisciplinary Research Learning Community. In this piece from CI's Channel Magazine, she discusses her research with Professor Luis Sánchez.
By Rosalba Rocha, '16  Sociology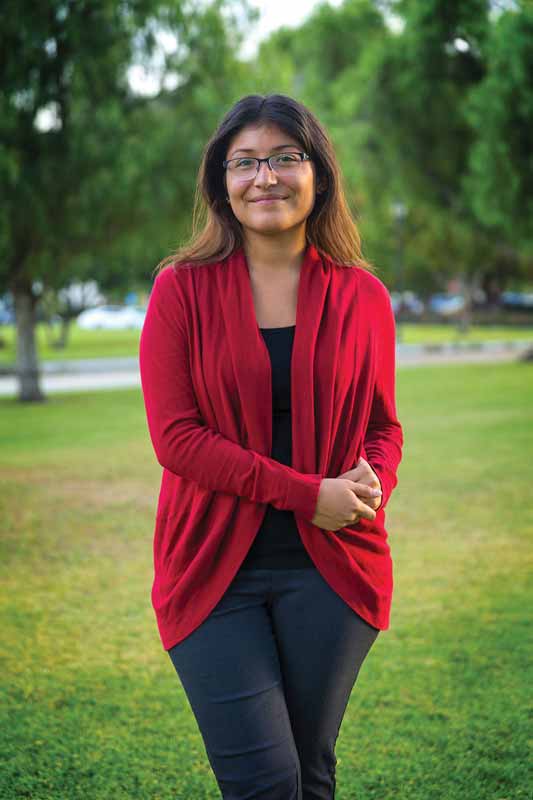 Last year I was given the opportunity to work on research with Assistant Professor of Sociology Luis A. Sanchez. My research project examines social and economic outcomes among the Mexican population in two border cities, San Diego, California, and El Paso, Texas, utilizing data from the 2012 American Community Survey.
In particular, I was interested in studying social mobility across the immigrant and native-born population as predicated by the straight-line assimilation theory. My research finds mixed evidence for the classic assimilation model. For example, native-born Mexicans are faring better than foreign-born counterparts in terms of English proficiency and educational attainment. However, in some cases I found no significant nativity differences in home ownership and unemployment rates. Furthermore, the process of social mobility and immigrant incorporation varies between the two cities. My findings suggest that geographic context has important implications for how contemporary immigrants and their offspring are faring in American society.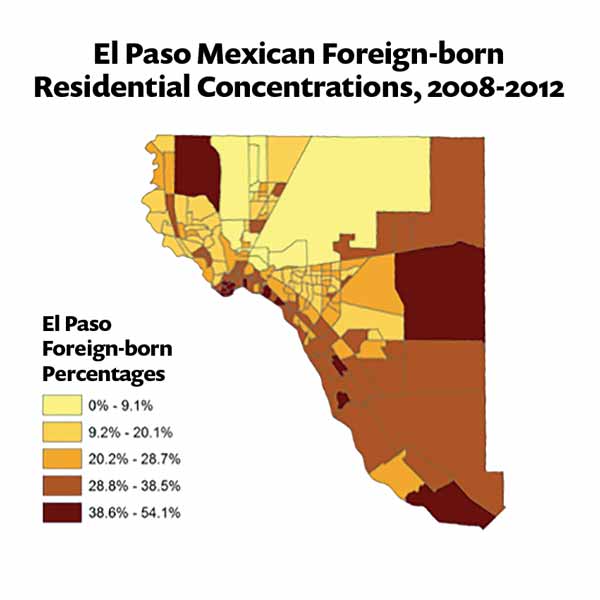 My study also incorporated Geographic Information Systems (GIS) to analyze residential patterns in both cities. I was interested in whether native-born Mexicans resided in neighborhoods outside of immigrant enclaves. Figures 1a and 1b illustrate the mobility being experienced in El Paso.
When analyzing San Diego, I found mixed results, leading me to conclude that integration process of Mexican immigrants varies from place and the context of reception. The maps I created for El Paso largely demonstrate that native-born Mexicans live in neighborhoods that are distinct from their immigrant counterparts. My maps for San Diego (not shown), however, reveal that immigrant and native-born Mexicans are living in similar neighborhoods. This finding suggests that context matters for residential mobility.
My re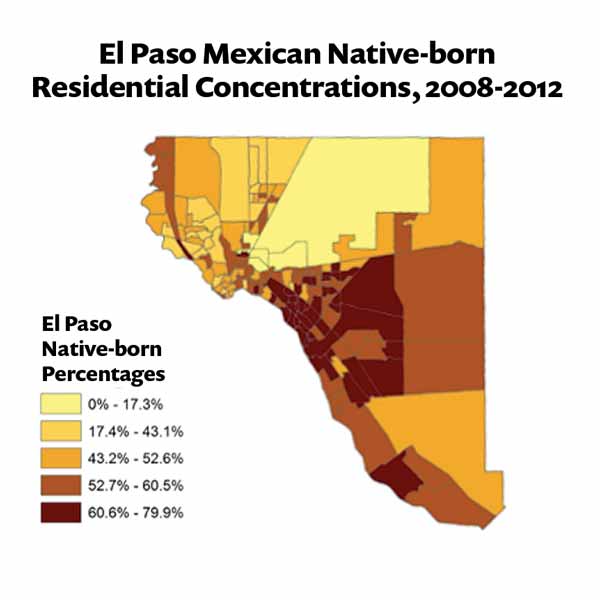 search experience has been the most rewarding time in my undergraduate career. I was able to meet like-minded individuals from various majors when I was invited to the Interdisciplinary Research Learning Community (IRLC) during the spring of 2015. These individuals reaffirmed the importance of asking questions. I am thankful for the opportunities and experiences I have gained from my research and look forward to continuing to do additional research. Without undergraduate opportunities such as these, many people like myself would not have been introduced to pre-graduate research programs.
by
The Channel Islands are more than a namesake for our campus. They are a living laboratory. CI has a partnership with the National Park Service allowing CI to maintain a research station on the island, providing access for our faculty and students to engage in research. A recent faculty-mentored student research project, conducted by Senior Anthropology major Victoria Scotti–mentored by our Archaeology faculty and National Park Service archaeologists–focuses on historic era shipwrecks around Channel Islands National Park. The Park is a rich and well-preserved time capsule. The wrecks inside the park boundaries range from Gold Rush era lumber schooners, like the Winfield Scott, to World War II military aircraft like the Grumman Avenger. Documenting their historical value and current role as artificial reefs, this project highlights the public benefits of these cultural assets. This video documents a few of the wrecks, highlighting the opportunities for substantive research available at Channel Islands.
by
CSU Channel Islands (CI) senior Annie De Bruyn had all but forgotten she had entered the Association of College Unions International (ACUI) "Steal This Idea" design contest.
"Then my supervisor said 'Have you checked your email? Because you won an award!'" De Bruyn said.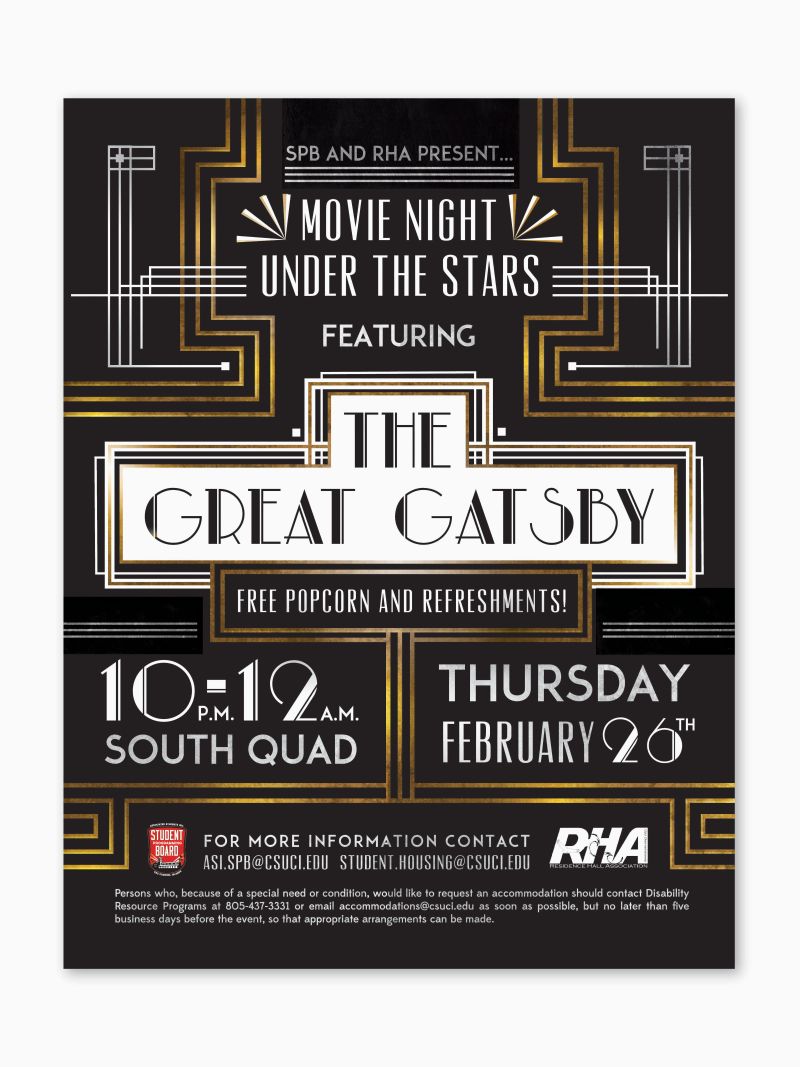 The Studio Art major was overjoyed to learn she had won a first place regional award in the four color poster category for a piece she created to publicize "The Great Gatsby" being shown on campus one night.
The news was even better. Ben Blanchard, De Bruyn's supervisor for Associated Students Inc. (ASI) where she works as a student assistant, had won seven awards for his designs, too, for a total of eight awards, plus one honorable mention.
"Last year we won two, this year we won eight," Blanchard said. "Nine if you count the honorable mention."
The awards were for Region One, which includes California, Nevada, Arizona, Hawaii, New Mexico Australia and the territory of Guam.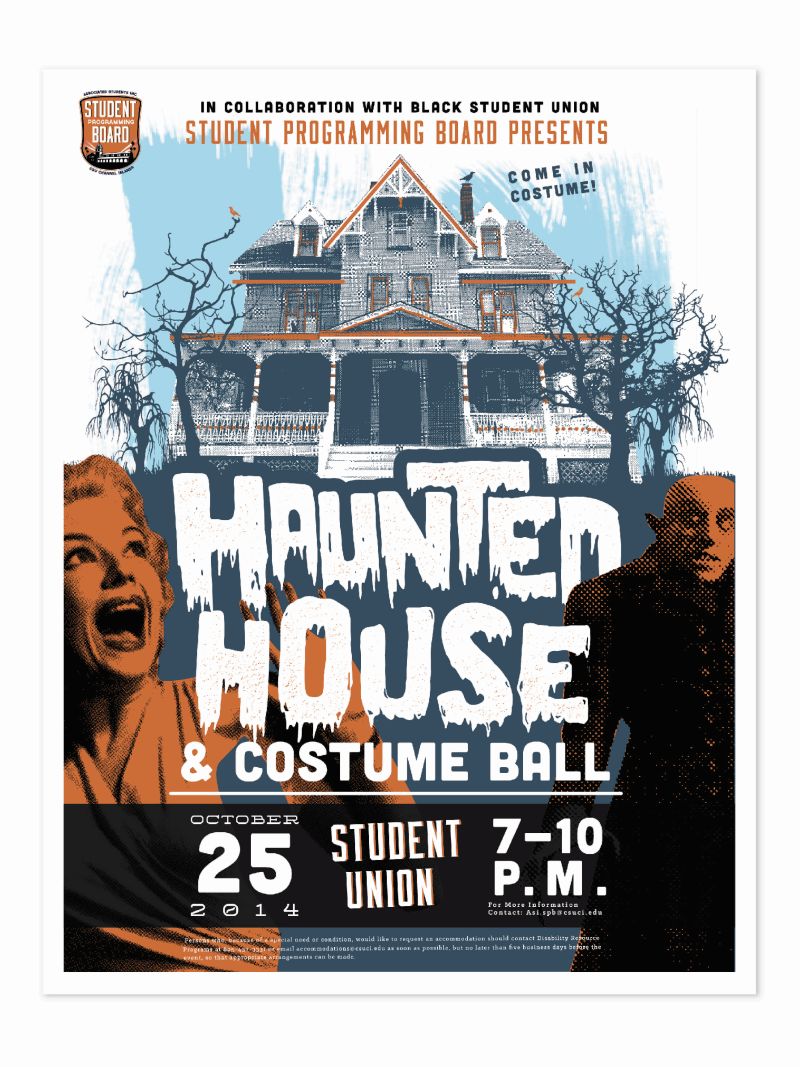 Blanchard was happy for De Bruyn, and for the opportunity to celebrate this accomplishment with the ASI team.
"Awards are awards," Blanchard said. "They're by-products of working hard. And an acknowledgment that we're going in the right direction and that we're competitive with our marketing and design effort beyond our own university."
"Steal This Idea" is a design contest hosted each year by Association of College Unions International (ACUI) that serves a variety of purposes.
"Steal This Idea" is a chance to show off what design departments in each university are doing, while providing inspiration for Student Union design teams looking for new styles of marketing and design.
"The contest is an opportunity to display the most innovative moments from your year and receive feedback for the work you've been doing," Blanchard said.
"Steal This Idea" is split into two divisions: professional staff and student staff. Blanchard won in the professional staff division and De Bruyn in the student division.
Creating the "Gatsby" poster was a labor of love, De Bruyn said, as she loves the Roaring '20s era associated with "The Great Gatsby."
"I love anything having to do with Art Deco," she said. "I'm obsessed with that era. I love the lines, the metal, the fashion and I love the book."
Blanchard said these awards give the student staff members like De Bruyn well-deserved recognition as well as encouragement to continue to pursue their craft.
"In addition, a 'Steal This Idea' award looks fantastic in resumes and portfolios, giving students an advantage as they head into the work force," Blanchard said.
The rest of the award-winning work included the CI Associated Students Inc. (ASI) Annual Report Website; a series of posters on hiring at ASI; a sports-themed block party poster; the 2014/2015 TheNautical yearbook; a poster for a haunted house event; and two annual reports.
The ACUI is a nonprofit educational organization that brings together college union and student activities professionals from hundreds of schools in seven countries. Its members work on urban and rural campuses, in two-year and four-year institutions, and at institutions both large and small.
by
Getting Involved
Changing Lives
How is Student Research Different?
Should freshmen engage in research?
Isn't research scary?
Where will research take you?
What is SRSC?
Who will you become at CI?